Un couple mythique
En 1940, Ray s'appelle encore Kaiser ; elle est passionnée d'art, elle étudie la peinture expressionniste abstraite aux côtés de Hans Hoffman, puis intègre la prestigieuse Cambrook Academy of Art (dans le Michigan), y rencontre Charles Eames, professeur et l'épouse l'année suivante, en 1941.
Le couple s'installe à Los Angeles et fonde le Eames Office en 1943, entreprise complètement conceptuelle combinant leurs passions, l'architecture, le design graphique, le design d'objet, la création de tissus. Ils s'intéressent même au cinéma documentaire et aux films publicitaires.
Artistes complets, Charles et Ray conçoivent leur activité professionnelle comme un ensemble où les disciplines sont liées et travaillent selon les principes d'une modernité minimaliste qui combine fonctionnalité et élégance.
De leur complémentarité, naitront les plus belles pièces du design américain, exportées dans le monde entier.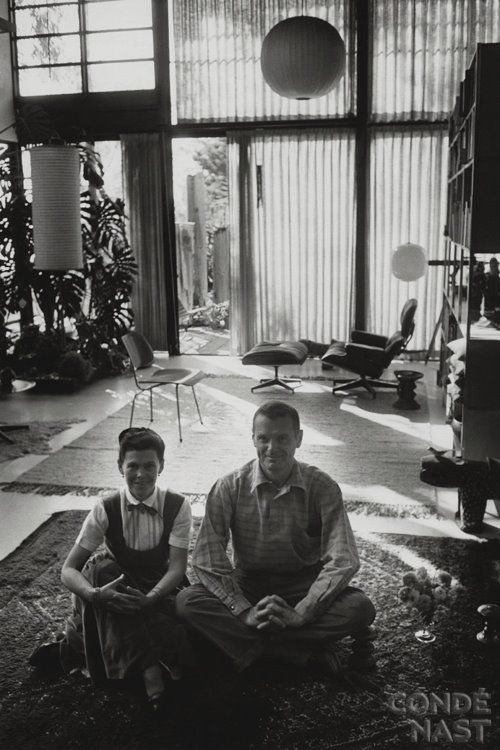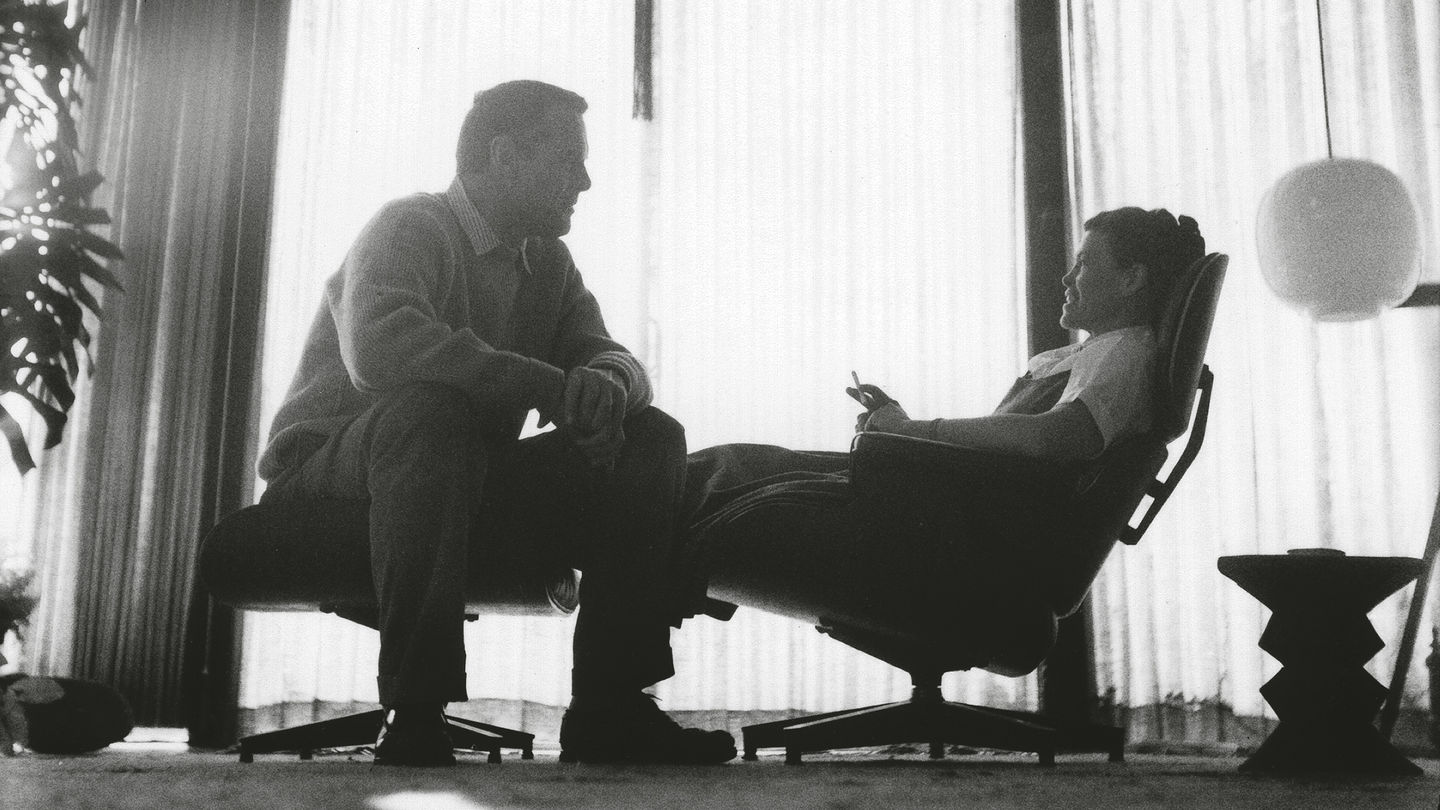 Naissance d'une icône du design
Dès le début des années 40, Ray et Charles expérimentent le moulage multidimensionnel du contreplaqué. En 1946, leurs premières pièces expérimentales intègrent le Museum of Modern Art de New York.
Dix ans plus tard, le fameux Eames Lounge Chair et son repose-pied Ottoman, interprétation moderne du traditionnel fauteuil club sont imaginés par Ray et Charles pour le fabricant de meuble Herman Miller. La chaleur et l'apparence du gant de baseball les inspirent ; ils lui empruntent sa forme irrégulière et sa texture. C'est le premier objet dessiné par le couple pour une fabrication industrielle à grande échelle.
Un an plus tard, Vitra signe avec Hermann Miller un accord de licence pour fabriquer et vendre en Europe et dans le Moyen-Orient.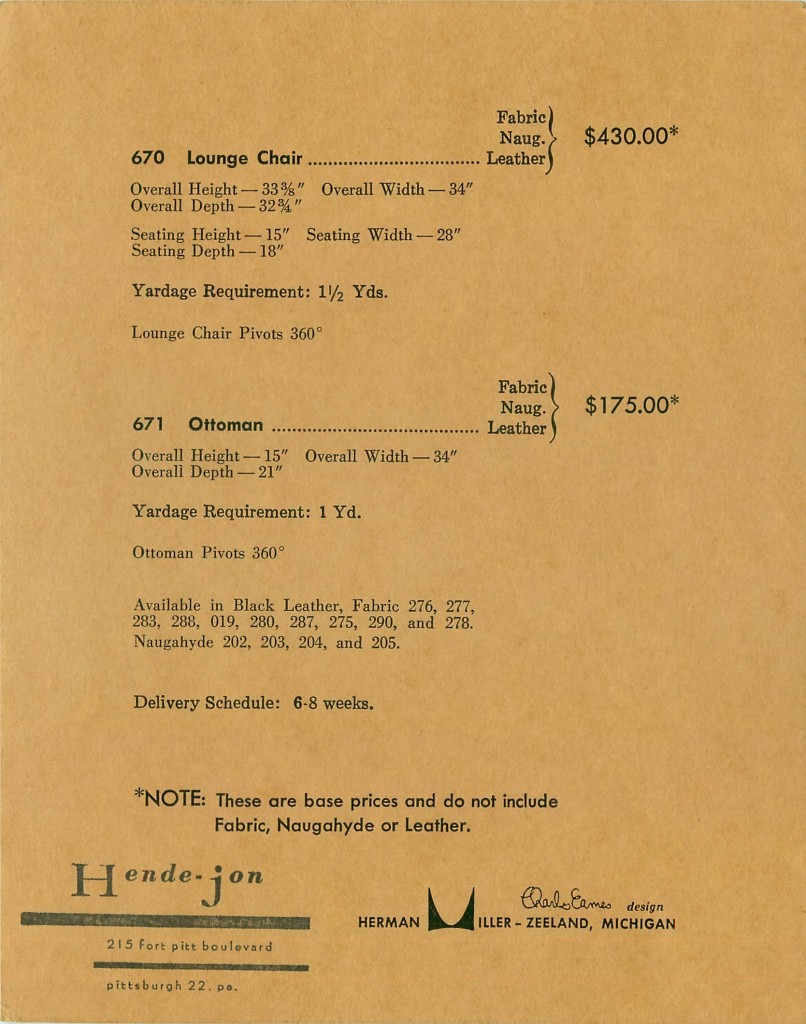 Facture et fiche technique du Eames Lounge Chair et du repose-pied Ottoman à la fin des années 50. 
Si dans les années 50, la publicité pour le mobilier Hermann Miller attribue le design du Lounge Chair à Charles Eames seul, on sait aujourd'hui que Ray a participé tout autant que son mari au succès des objets qu'ils ont dessinés pour la marque d'ameublement américaine. Issue initialement du monde de la peinture et des beaux arts, Ray a apporté notamment sa grande maîtrise de la couleur dans le processus de création des objets Eames.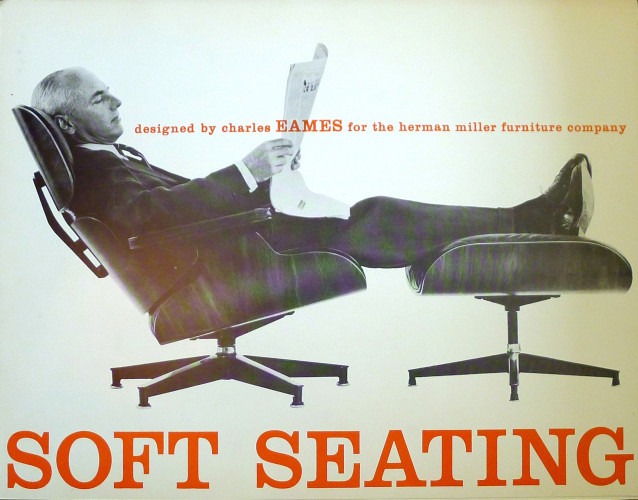 Aujourd'hui, Vitra fabrique le Eames Lounge Chair selon les mêmes procédés qu'à l'origine, avec un savoir-faire unique. Sa conception fait appel au contre-plaqué de palissandre qui assemble différentes couches de bois des tropiques. La base de ce siège est lustrée, moulée, puis garnie de coussins recouverts de cuir dans sa version la plus connue.
Si vous souhaitez en savoir plus, rendez-vous sur la fiche produit pour de plus amples informations.